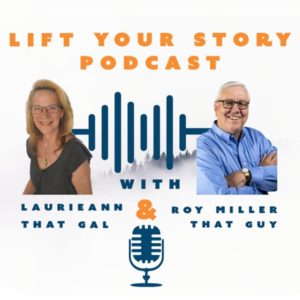 DATE: Tue, September 28th, 2021
TIME: 5.00 p.m. – 6.00 p.m.
LOCATION: Milton, Ontario and Dallas, Texas
What a pleasure it will be to appear as a guest on Lift Your Story podcast hosted by LaurieAnn and Roy Miller. LaurieAnn will be hosting from Milton, Ontario while Roy will be co-hosting from Dallas, Texas. The two hosts will ask questions from differing angles and perspectives. It promises to be an enjoyable event. Apart from my career and travels, we will be discussing my fictional novels.
In addition to Discreetly Yours, I will be discussing my cozy mystery, Murder Aboard the Queen Elizabeth II, the award-winning The Chapel of Eternal Love – Wedding Stories from Las Vegas, and the critically acclaimed sequel, Return to the Chapel of Eternal Love – Marriage Stories from Las Vegas.
Our conversation will be pre-recorded, and the link to listen will be posted here when known.
ADDENDUM: To listen to this interview, please click on the following link. https://www.buzzsprout.com/939037/9287484?fbclid=IwAR2B9GmOxjul-SB5jb13vW1Q7V_16cfXLwx0NWWPpOMhBQBIoBleD33mxyg