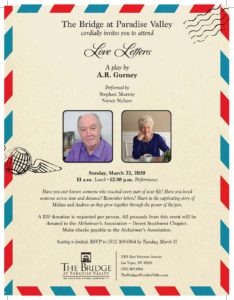 DATE: March 22, 2020 – Due to the COVID-19 this has been postponed. A new date will be provided, when known.
TIME: 11.00 p.m. – 2.30 p.m.
LOCATION: The Bridge at Paradise Valley, 2205 E. Harmon, Las Vegas, NV 89119
Even though this is not a book signing event, for those of you reading this and are looking for a delightful way to spend a Sunday, hopefully you will consider coming to this Alzheimer's Association – Desert Southwest Chapter fundraiser. My good friend, Nancy Nelson, and myself , will be performing A.R. Gurney's delightful play, 'Love Letters'. Reservations are essential. Please call (702) 369-6964. Price of admission is $20.00 donation which includes lunch.