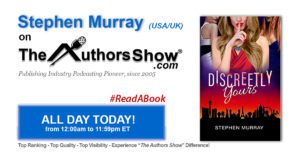 DATE: September 24th, 2020
TIME: 12.00 A.M. – 11.59 P.M. EST
LOCATION: Broadcast of the Podcast Interview on The Authors Show.
My pre-recorded appearance as a guest on  The Authors Show will be broadcast every 15 minutes on Channel 8 for a full 24 hours. Hopefully, you can tune in for this fun time.