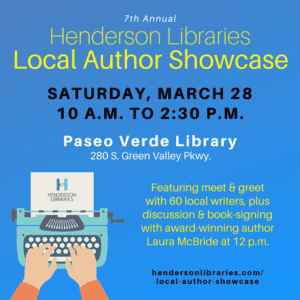 DATE: Sat, March 28th, 2020 – Due to the COVID-19 Viruse, this event has been CANCELED.
TIME: 10.00 a.m. – 11.30 a.m.
LOCATION: Paseo Verde Library
Am very honored to be part of the 7th Annual Paseo Verde Library Local Author Showcase. Gratitude to Carolyn Hoover and staff at Paseo Verde Library for all their hard work in making this very special event happen.
This is an all day event and an absolute must for all book lovers.
I will be selling and signing copies of Discreetly Yours, as well as the award-winning Chapel of Eternal Love – Wedding Stories from Las Vegas, the critically-acclaimed sequel, Return to the Chapel of Eternal Love – Marriage Stories from Las Vegas, and the Readers Favorite 5-Star rated cozy mystery, Murder Aboard the Queen Elizabeth II.