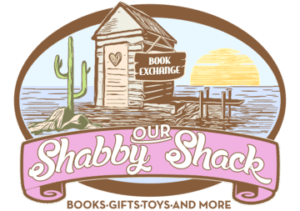 DATE: Saturday, January 22nd, 2022
TIME: 10.00 a.m. – 2.00 p.m. PST
LOCATION: Our Shabby Shack and Book Exchange
Am so looking forward to this book signing at this beautiful book store and boutique in the heart of quaint Lake Havasu City, Arizona.
It will be my first signing at any book store in Arizona, and I appreciate the invite from the manager, Leila.
Naturally, I will be selling and signing copies of all five of my novels – Discreetly Yours,  the award-winning The Chapel of Eternal Love – Wedding Stories from Las Vegas, the critically acclaimed sequel,  Return to the Chapel of Eternal Love – Marriage Stories from Las Vegas,  the Reader's Favorite 5 star rated Murder Aboard the Queen Elizabeth II, and my latest novel,(although I am not sure there will be too much demand in January!) Discovering the Christmas Spirit.