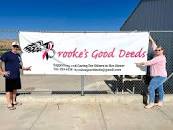 DATE: Saturday, October 1st, 2022
TIME: 12.00 p.m. – 3.00 p.m.
LOCATION: Brooke's Good Deeds
It will be an honor to be part of a book signing at Brooke's Good Deeds in Moapa Valley. Brooke's Good Deeds is a non-profit organization honoring Brooke McPheters, the daughter of the organization's founders, Shanna & Gary McPheters. Brooke was tragically killed by a drunk driver. Her zest for life personified the ideals of 'giving back' to the community and was involved in numerous and varied philanthropic causes.
Thank you, Shanna McPheters, for opening your venue to authors.
I will be sharing this book signing event with fellow author Vicki-Ann Bush, who I would also like to thank for her role in making this event possible.
In addition to Discreetly Yours, I will also be promoting the award-winning, The Chapel of Eternal Love and the sequel, Return to the Chapel of Eternal Love, my cozy mystery, Murder Aboard the Queen Elizabeth II, and my critically acclaimed holiday novel, Discovering the Christmas Spirit.
Vicki-Ann Bush will be promoting her young adult novel, Alex McKenna and Death is Not the Beginning. A percentage of books sold will be donated to the cause.
Hope you can stop by, purchase some early Christmas gifts, and support this very worthy organization.