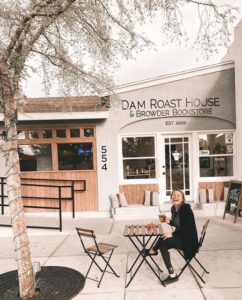 DATE: Saturday, June 12, 2021
TIME: 1.00 p.m. – 4.00 p.m.
LOCATION: Dam Roast House and Browder Bookstore, 554 Nevada Way, Boulder City, Nevada.
Thanks to the owners of the Dam Roast House & Browder Bookstore, Travis, Amber & Misty, for giving me the opportunity to hold a book signing at their delightful café and bookstore. This venue is in the heart of the historic section of Boulder City, and the assortment teas, smoothies, lattes and assorted edibles is nothing short of sumptuous.
Not only will I be signing copies of Discreetly Yours, but will also be signing copies of the award-winning The Chapel of Eternal Love, the critically acclaimed sequel, Return to the Chapel of Eternal Love and copies of my cozy mystery, Murder Aboard the Queen Elizabeth II.
Hope you will stop by and sample some of their delicious goodies and obtain signed copies of my books.