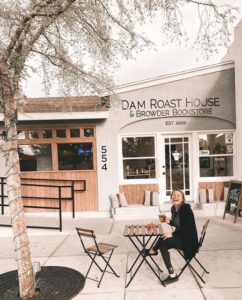 DATE: Saturday, October 23, 2021
TIME: 11.00 a.m. – 2.00 p.m.
LOCATION: Dam Roast House & Browder Bookstore, 554 Nevada Way, Boulder City, NV 89005
It will be such a thrill to return to this venue for a book signing. I had such a wonderful time, when I was there in June. The owners, Travis, Amber and Misty and staff are truly super……. The lattes and munchies are out of this world.
I'll be signing copies of  all four of my novels – Discreetly Yours ,The Chapel of Eternal Love, Return to the Chapel of Eternal Love, and Murder Aboard the Queen Elizabeth II.
I will be joined at this signing event by local Boulder City author, Tiane Marie, who will signing copies of her newly released book, Boulder City (Past & Present)
Hope you can stop by and say hi,,at this beautiful spot in historic downtown Boulder City.